The Victoria Quilters' Guild members volunteer to make baby quilts which are donated to Victoria General Hospital Neonatal Intensive Care Unit and to families who experience trauma during their pregnancy.
The Committee goal is at least 300 baby quilts each year, and with additional generous donations from members and non-members we have been able to give 350 to 450 and often more quilts each year.  The quilts mean a great deal to the families who are going through a trying time.  The quilts are often draped over the incubators to shield the babies' eyes from bright lights while they are in the ICU, and are a comfort to the families at a stressful time.
The money for making the baby quilts is provided through the guild's Community Comfort Quilts Society and, originates from the sale of raffle tickets at our biennial quilt show.  The Guild also receive donations of money or materials from members and non members.
Victoria Quilters' Guild Baby Quilt Committee Volunteers are:  Nan Beall-Fahlman, Sylvia Burghardt, Lois Lockley, Anne Sanderson,  Valerie Boode,  Judy Say, and Bea Sinclair (Chairperson).
The Committee purchases batting and 100% cotton for the tops, backs and bindings of the quilts.  The materials are washed, checked for colour fastness, ironed, cut and assembled into kits for members to complete.  When the tops are returned they are bundled with batting, backing and binding, ready for quilting.  The finished quilts are checked for quality of workmanship,  labelled and delivered to the hospital.  The Committee is particular about workmanship because each quilt delivered represents The Guild, and should last through many washes and much use after  they have gone home with the family.
Memory Boxes
Our Guild goal is to provide a baby quilt for each of 300 premature babies cared for in the Neonatal Intensive Care Unit at Victoria General Hospital.  Sadly, not all  premature babies survive for NICU care.   The parents of these tiny babies are presented with a Memory Box containing their baby's name bracelet, hand and foot prints, snip of hair, toque and any other memorabilia used during the baby's care.  We have been asked to make a 12 inch square quilt to add to the Memory Box.
Our request for the Guild members is that you make a Memory Quilt, using your own supplies for this tiny quilt, and bring it to us for delivery to the Social Worker at NICU.  They have requested 80 tiny Memory Quilts per year.  Use your discretion in fabric choices and design to make a heartfelt quilt for a family in loss.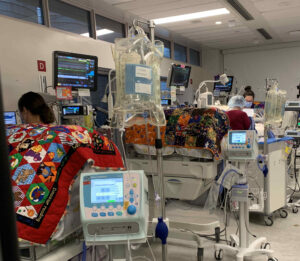 Baby Quilts in action at NICU