One of the mandates of the Victoria Quilters Guild is education about quilting.  To this end the Workshop Committee schedules Workshops with locally, nationally, and internationally  recognized quilting teachers.
Policy For Workshop Attendance In order to encourage the sharing of teachers and resources among interested local guilds we have instituted the following policy regarding attendance at workshops.
Workshops will be offered first to VQG members.
One month prior to the workshop date, attendance will be opened to members of other fiber and fabric guilds (West Shore, MQG, Embroiderers Guild, Up Island Guilds for example) at the same price (assuming there are still available seats).
Non guild members will also be allowed to sign up one month before the date, (assuming there are still seats available). They will be charged a 10% surcharge.
Please contact us with questions, comments, and suggestions for workshop topics or teachers. workshops@victoriaquiltersguild.org
List of Workshops
Note: All workshops are in person
May 6: Spring Fling: Four sessions, 9 a.m. – 4 p.m. Emmanuel Baptist Church. (Details below)

August 16/17: Terry Aske  – Circles, Circles, Circles 
September 20: Joni Newman – afternoon mini-class
November 16: Joni Newman – full class
October 21: Fall Frolic:  TBA to be held at Emmanuel Baptist Church
Spring Fling May 6, 2023
Spring Fling will be in the Emmanuel Baptist Church gym from 9 – 4, entry at 8:30 a.m.
Supply list will be sent out via email to all registered students.  The fee for Spring Fling is $45.
Susan Teece will be teaching Textile Tiles, a unique way to create and show off your favourite photos.  You will be creating an 8 x 10 wrapped canvas tile base of a photograph.  You will learn how to turn a photo into fabric art.  Susan will provide 2 options for you to choose from, a cabin or a heron.  You will learn techniques which you can later adapt to your own photos.  Design techniques such as perspective and colour choices will be discussed.  Some applique and piecing is involved and you will be able to add your own details, making yours unique.  This is a project that can be completed in one day.   
Kit fee $7 paid to Susan at workshop. (includes the canvas, photos, stabilizer and fusible web).  Power staple gun will be available to complete your work of art.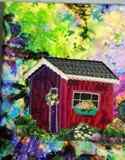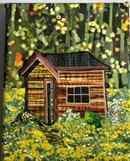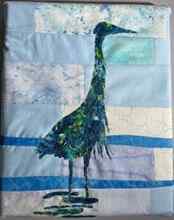 Laura Manning will be teaching a Churn Dash Medallion Quilt.  You will create a Churn Dash within a Churn Dash as a center medallion.  You will play with this block and learn some cutting, piecing and ironing strategies to make a top individual to you.  The center Churn Dash finishes at 6.5" and this can create complications for accuracy.  Laura will demonstrate strategies for success, even if you have not perfected accurate 1/4" seams.  The Churn Dash Medallion finishes at 24.5" square, a table topper size.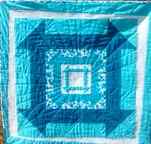 Ursula Reigel will be teaching On a Roll.  In this class you will create a table topper which measures 22" from tip to tip.  You will work with triangles in different sizes to assemble the top layer.  After the project is layered you will do some straight line quilting with a walking foot.  Additionally you will learn to how to apply binding on this octagonal project.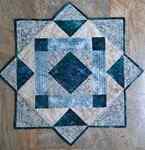 Self Directed Do Your Own Thing.  This is an opportunity for you to bring your own project and enjoy being with friends.  You could sandwich a quilt, work on a new project, finish a UFO, or work on baby quilts.  There will be no instructor.
Carol Stewart, Workshop Chair

 bruceastewart@shaw.ca  250-383-4965
Workshop Cancellation Policy
Victoria Quilters Guild
Please note that once you have registered and paid for a workshop, the following will apply:




No refund will be made for the workshop.  If there are people on a wait list, you would be given their names and numbers and you make arrangements with them to take your place and exchange workshop fees between you.