One of the mandates of the Victoria Quilters Guild is education about quilting.  To this end the Workshop Committee schedules Workshops with locally, nationally, and internationally  recognized quilting teachers.
Policy For Workshop Attendance In order to encourage the sharing of teachers and resources among interested local guilds we have instituted the following policy regarding attendance at workshops.
Workshops will be offered first to VQG members.
One month prior to the workshop date, attendance will be opened to members of other fiber and fabric guilds (West Shore, MQG, Embroiderers Guild, Up Island Guilds for example) at the same price (assuming there are still available seats).
Non guild members will also be allowed to sign up one month before the date, (assuming there are still seats available). They will be charged a 10% surcharge.
Please contact us with questions, comments, and suggestions for workshop topics or teachers. workshops@victoriaquiltersguild.org
Workshop Cancellation Policy
Victoria Quilters Guild
Please note that once you have registered and paid for a workshop, the following will apply:




No refund will be made for the workshop.  If there are people on a wait list, you would be given their names and numbers and you make arrangements with them to take your place and exchange workshop fees between you.



Carol Stewart, Workshop Chair

 bruceastewart@shaw.ca  250-383-4965
Note: All workshops are in person
Workshop fee is $40.00. You can email me (bruceastewart@shaw.ca) or call me (250 383-4965) to register for the workshop.
Workshops are at Emanuel Baptist Church
Stained Glass Workshop
by Joni Newman
November 16 9AM – 4PM
You will be making a full size pattern.  This is just one of many patterns that you can select from for the workshop.  Patterns will be available at the September meeting.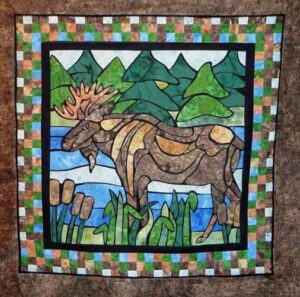 Workshop fee is $80.00 plus pattern cost.  You can email me (bruceastewart@shaw.ca) or call me (250 383-4965) to register for the workshop.
FALL FROLIC CLASSES
October 21, 2023  9 AM – 4PM
Workshop fee is $45.00. You can email me (bruceastewart@shaw.ca) or call me (250 383-4965) to register for the workshop.
NOTAN – EXPLODING THE SQUARE    by Cathy Miller
NOTAN is a Japanese term meaning "light/dark". Artists have been playing with this concept to design exciting positive/negative pieces for years, and now it has been discovered by quilters. The concept is easy: whatever is removed from the centre square gets flipped to the outside of the square. But the possibilities are endless. The class will play with the NOTAN design technique to create a piece which (in the 6-hour class) they will then turn into a fat quarter sized quilt, using Cathy's Mock Mola™ appliqué technique (see class above).  The class is also available as a 3-hour class, which will involve in-depth design exercises using Notan principles, but no sewing.
6 HOUR NOTAN CLASS:  Machine reverse appliqué. Some free motion experience is helpful but not required. Cathy can adapt designs to suit all capabilities.  This class will produce a fat quarter-sized quilt, done using Mock Mola appliqué.
 Give & Take Ornaments Quilt 
Daphne Greig, Patchworks Studio
Careful cutting results in positive and negative shapes in this quilt using Daphne's trademark Give & Take Appliqué™ method. You will learn all about fusible web for appliqué and machine stitching in this class.
Make a quilt, table runners or gift bags as you learn this amazing technique!
Class is intended for Confident Beginners and above.
There is a Fee for the Pattern and Freezer Paper for this workshop: $6.00 payable to Daphne at the class (cash is preferred please).
Fall Frolic Table Runner
Lois Toutant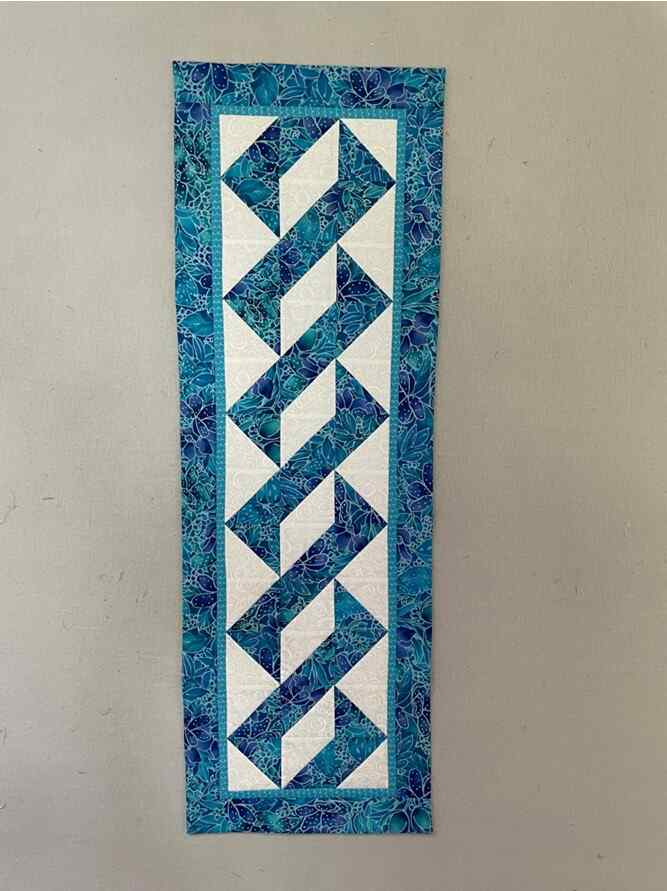 Join me to make this half square triangle table runner.
       I will guide you through making half square triangles – 18, 8 and
        4 at a time.
       I will give you charts for measurements of each to take with you
        for future projects.
       I will show you a time saver efficient way to trim and press your
        HSTs.
       It will be a fun, creative time and you will go home with a
        table runner for your table or to gift for a friend.
Continuous Bindings and Square Corners
  Sharon White
Continuous bindings and square corners, not just 1/4″ wide.  In the workshop I will show you how to adjust the width of your binding and still have square corners in whatever you're are making.  Participants will take home a few samples of various width bindings for future reference.  You will as learn how to add an accent strip that will enhance your work.  I will also make some suggestions on working with stripes, plus I will show you some simple time-tested tips, and a mitred corner suitable for napkins and shirt hems.